We are Hiring
We are Hiring for Diesel Technicians and Heavy Duty Tow Truck Operators.
Contact us today for more information!
Towing Company in Dillsboro, IN
Affordable Todd Wrecker & Repair LLC has been providing 24/7 roadside assistance, towing and recovery since 1978. If your truck, heavy machinery, or diesel vehicle is stuck on the side of the road or a ditch, we'll haul you out and get you unstuck in a flash! Our full-service auto body shop also provides exceptional repairs and parts for sale, for your convenience.
Your Go-To Towing Company and Repair Shop
If your truck is broken down on the side of the road, you don't want to have to wait for a towing company. Instead, you need a towing provider that's fast and knowledgeable and able to assess and solve your problem quickly. Affordable Todd Wrecker & Repair LLC is here to be that service! Not only do we provide prompt and professional towing 24/7, we're also equipped to deliver roadside help and recovery services to you and your vehicle. Whether you need gas delivered, a tire replaced, or your cabin unlocked, our experienced professionals will get the job done for you, so you can get back on your way.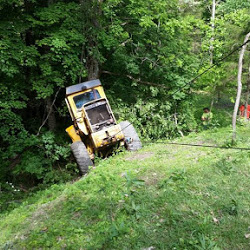 If your problem is too big to solve on the side of the road, trust us to tow you back to our full-service auto body shop. There, we'll be able to provide you with the bodywork you need to restore your truck's integrity. We'll even help you solve any issues your semi might be experiencing. Count on us for transmission work, hydraulic hoses, suspension work, differentials and more! We're even your go-to provider for repair in Dillsboro, IN. Looking for parts and accessories? We've got those too. Brakes, airbags, tires, and pedals are all for sale at our shop. Take a look at just a few more reasons so many truckers rely on us when they're passing through Southern Indiana:
We provide 24/7 roadside services to truckers in need.
Our business has been family-owned since 1978!
All of our service professionals are ASE-certified.
We're licensed with the U.S. Department of Transportation (USDOT #961176).
We also sell used semi-trucks and parts for your convenience.
Get the Help You Need, Fast
Stranded on the side of the road, in need of a winch-out? Need roadside repairs for your semi-truck? Contact our towing company right away for prompt, professional service within 100 miles of Dillsboro, IN, including Farmers Retreat, Dearborn County, Friendship, and Chesterville, IN.
Serving the towing and repair needs of Dillsboro, IN and the surrounding areas:
Dearborn County, IN
Friendship, IN
Ripley County, IN
Cross Plains, IN
Moores Hill, IN
Aurora, IN
Versailles, IN
Milan, IN
Pierceville, IN
Lawrenceburg, IN
Franklin County, IN
Decatur County, IN
Ohio County, IN
Switzerland County, IN
Jefferson County, IN
Northern Kentucky
Southwest Ohio